You are here
AVTTP Wine/Cheese Event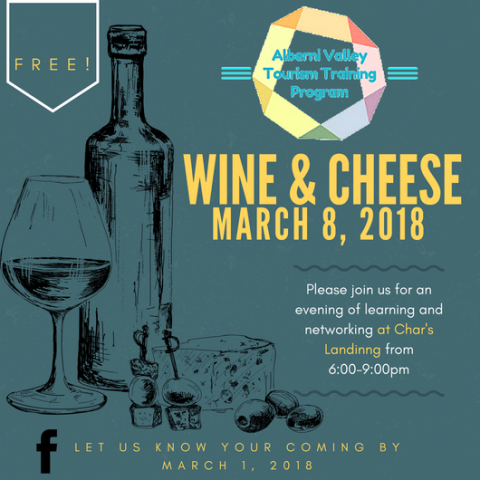 Date:
Thursday, March 8, 2018 - 6:00pm
YOU
Social Media Experts
SuperHost Trainer
Calum Matthews - Tourism Vancouver Island *
Plus at least 25 Tourism Related Businesses in Port Alberni.
Think - ATV's, Fishing, Kite-Boarding, Lake Tours, Tug Boats, Hiking, Cycling, Soaring, Zip-lines, Water Buffalo's, Inlet Charters, Air tours, First Nations Tours, Campgrounds, Della Falls, Windsports, Boat Rentals, Candy Makers, Aquarium, Craft Beer guy, Houseboats and more.....
This Event put on by the AV Tourism Training Team, Char's Landing, Pressed Events, Coleman Meadows Farms, Qualicum Cheeseworks, and others
Do you want to learn more about local tourism products? Do you know everything possible about Social Media best practices? How are your Customer Service Skills? Or those of your employees? How about local and not so local cultural best practices? What is your most important asset in your business? Is it the Expensive Freezer that holds your inventory or.....is it you? Don't send your freezer to this training.