You are here
Managing Staff Relations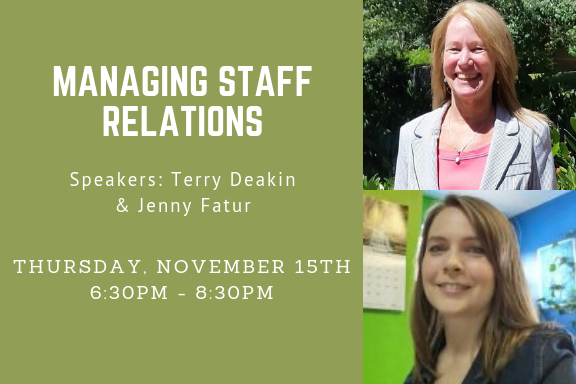 Date:
Thursday, November 15, 2018 -

6:30pm to 8:30pm
Speakers: Terry Deakin, CEO at INEO Employment Services
Jenny Fatur, Financial Administrator, INEO Emplyment Services
Join us for an evening Workshop from 6:30pm-8:30pm at the Chamber of Commerce boardroom (visitor centre), 2533 Port Alberni Highway. This session is about human resources and creating a healthy workplace. If you don't have a plan for your expectations with staff, you could mistakenly create the conditions for conflict to occur. Satisfied employees who feel valued will work hard for you and want to stay. Learn about:
Best practises for training and orienting employees so that they feel welcome and valued
Creating a respectful workplace
Managing staff conflicts and preventative measures to avoid conflict
Creating favourable conditions for employee retention
The risks of managing staff without a plan
Employee and employer rights
Payroll law
Terry Deakin, owner and CEO of INEO Employment Services, is celebrating 20 years of service in the Alberni Valley. Terry began her journey as a social entrepreneur in 1998 with a pilot project in a rented room where the PEAK radio station is now. Continuing her education while growing the business, Terry completed a Diploma in Human Services, a Bachelor of Commerce in Entrepreneurial Management and most recently a Master of Arts in Community Development. INEO currently employs a staff of 15 and provides employment and employment related services to those who are unemployed or precariously employed. Terry believes the magic comes from the people who do the work – the staff who provide the support and those who take that support and turn it in to success stories.
Jenny Fatur is the Financial Administrator for INEO and billing guru for our work in the Employment Program of BC. Jenny has been employed with INEO for 7 years, starting as Administrative Assistant and moving quickly in to the Financial Administrator position.
Register today by calling 250-724-6535 or emailing reana@albernichamber.ca