Graphics, Printing, & Signs
Offset & digital printing, signs Co-owners Peter Lapins and Peter Wienold are hands-on in all departments.

Welcome to Houle Printing, Port Alberni's Largest Print Facility. We're passionate about quality print that looks superb, feels great and 'does the business' for our customers.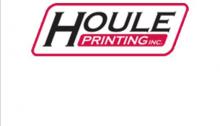 Jal Designs & Graphics Inc. has been servicing customers in the Alberni Valley since the mid-1970's and was purchased by present ownership in 1998.