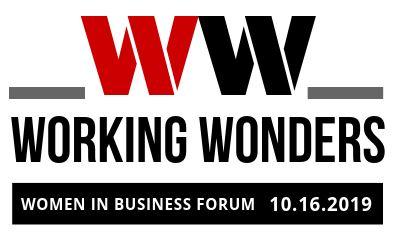 Because women work wonders.
Mark your calendar for Wednesday, October 16th, 2019!
The Chamber invites you to a full day of professional development and networking for women involved in business, whether they are owners, operators, or employees. The format is a series of panels featuring local women in business answering questions from moderator Theresa Kingston and questions from the audience. 
At midday participants can check out the venue's Working Wonders Info Market: Displays and representatives from local business resource organizations and institutions such as North Island College's business program, INEO Employment Services, Alberni Valley Employment Centre (and wage subsidy program rep), and the Nuu-chah-nulth Economic Development Corporation. They are looking forward to helping your business grow and succeed!
Keynote Speaker Mandy Farmer, President & CEO of Accent Inns, has been recognized as Hotelier of the Year by Pinnacle Awards, an accolade that recognizes her decades of work within Canada's tourism industry. Highlights from Farmer's career include a commitment to the family-business, innovation through customer promotions and staff programs, rebelling against the ordinary through the creation of the Hotel Zed brand, and support of her local Victoria community and through charities that operate throughout the province.
Keynote Speaker Josie Osborne was recently re-elected to her third term as mayor of Tofino. A self-described 'community builder,' she grew up on Vancouver Island immersed in her parents' small businesses and was strongly mentored in community service. After completing post-secondary education at UBC and SFU, she moved to Tofino and pursued a 15 year career in marine biology and environmental education before turning to small business and politics. Prior to becoming mayor, Josie served as the Chair of the Board of Directors for Tofino's destination marketing organization, Tourism Tofino. Josie currently serves as Chair of the Board for the Island Coastal Economic Trust (ICET), and Vice Chair of the Alberni-Clayoquot Regional District. In 2017, she was appointed by the BC Minister of Environment and Climate Change to the British Columbia Clean Growth and Climate Action Advisory Council.
Moderator Theresa Kingston retired in 2017 from the City of Port Alberni after 40 years in management positions. During her career she held many positions including Director of Community Services, and Director of Corporate Services/Deputy City Manager for the City of Port Alberni. Since 1990, Theresa has operated a consulting business that includes work in the areas of Strategic Planning, Human Resources, Community Engagement, Volunteer Management, Board Governance, Leadership and Organization Development. In this capacity, she is a sought after conference presenter and process facilitator. Theresa holds a MA (in Leadership and Training) from Royal Roads University and a Diploma in Public Sector Management from the University of Victoria. In retirement, Theresa continues to operate her consulting business and volunteer with organizations that make a difference in the community.
Location: Chances Rimrock Gaming Centre, 4890 Cherry Creek Road, Port Alberni BC
Please note that updates will be posted here and in the following locations:
For inquiries or to sign up for the email list contact: Reana Miller / Special Projects, reana@albernichamber.ca, 250-724-6535.
To purchase your ticket for this event, please use the paypal payment button below:
Early Bird price: $45.00 + GST
After September 30th: $50.00 + GST
Ticket price includes lunch and refreshments.
This event is made possible by a grant from the Province of British Columbia.